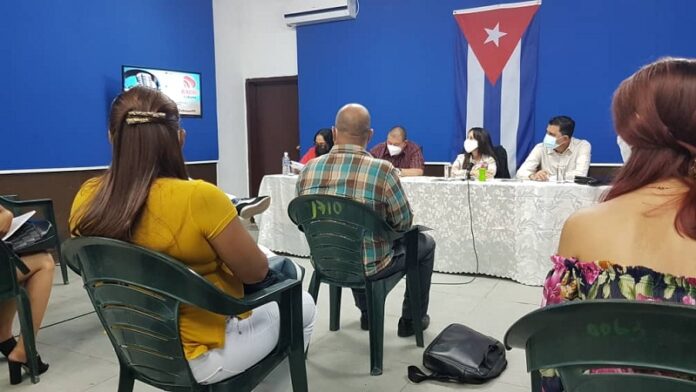 After two years of the pandemic, the Provincial Radio Stations System in Las Tunas maintains quality programming in response to the imperative needs of audiences from information and the accompanying.
Las Tunas, Cuba.- Isolation due to the COVID-19, the incidence of the disease in workers of this sector, the economic crisis, and social transformations dictated a path in which the perseverance and dedication of workers have made the difference to overcome any setback.
Immediacy, creativity, and unparalleled collection of energy allowed the Performing Arts Section to take place, resorting to cellular technology to record the speeches of the actors; the assembly of the informative product and even the risk of collaborating with the medical personnel, and reporting from the red zone, as well as the hand in hand with the specialists, marked the stage, impregnating security every minute on the air.
The guarantee that the effort was well rewarded from the gratitude of the listeners, their trust in the frequencies of the stations, and the awareness of the value of each intervention from the safety of the home allowed the Provincial System to take stock of the year that ended with expectations in training and better resources for daily work.
In this regard, the precarious situation in which the Radio Libertad collective in the municipality of Puerto Padre works, without their own space or actions that indicate the establishment of acceptable conditions for their performance, stands out; which Radio Maboas, Radio Chaparra, Radio Manatí, and "Cabaniguán" also face to a lesser extent.
Immediate projections are to enable the large recording studio of Radio Victoria, especially for the drama programs -which allows collaboration with local groups and musical projects-, the strengthening of the Digital Newsroom, and the training of human capital, among other issues.
The main leaders of the Cuban Communist Party (PCC) and the Government in the province discussed the need to consolidate alliances to improve the infrastructure of the Radio Stations System; while Yuzaima Cardona, director-general of Cuban Radio, conveyed congratulations and gratitude for keeping working without losing a minute on the air.
At the close of the assembly, they recognized the best professionals, with highlights for Arián Laverdeza, from Radio Manatí; Bárbara Sánchez Ramírez, from Radio Cabaniguán; Yunior Guerrero Manresa, from Radio Chaparra; Rosa María Ramírez, from Radio Libertad; and Aliuska Barrios Leyva, from Radio Victoria.