Cuban President Miguel Díaz-Canel Bermúdez expressed Cuba's willingness to advance foreign investment, including by US citizens and Cuban Americans.
Havana, Cuba.- After touring pavilions of the Havana International Trade Fair along with Prime Minister Manuel Marrero, the head of state said that Cuba has never put hurdles to foreign investment but it's been the US economic, commercial and financial blockade that has hindered such initiative.
The important thing here is finding ways and business modalities that help us advance, the President said to reporters at Expocuba exhibit grounds.
The US blockade affects third countries too, the President noted and went on to affirm the Cuban government's willingness to address with the United States issues of common interest on equal grounds.
In his opening remarks of the fair, Premier Marrero Cruz announced the presentation of a local portfolio of business opportunities for Cubans residing abroad for the first time at the event.
After two years under the COVID-19 pandemic, the fair reopened this November 14 with the attendance of representatives from over 60 countries and official delegations.
Havana's International Trade Fair is considered one of the most significant events of its kind in Latin America and the Caribbean.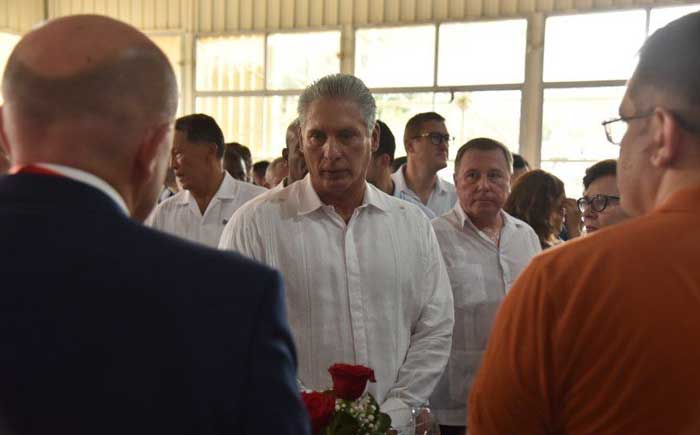 FIHAV RETURNS WITH SIMILAR NUMBERS AS BEFORE THE PANDEMIC
With a representation of 62 countries and more than 16,500 square meters contracted, the Havana International Fair (FIHAV 2022) reopened today at Expocuba, which are very similar figures to those achieved before the COVID-19 pandemic.
This was stated by Cuban prime minister Manuel Marrero Cruz, who offered the opening remarks of the event in the presence of Miguel Diaz-Canel Bermudez, first secretary of the Central Committee of the Cuban communist party and president of the country.
Marrero Cruz expressed the hope that this framework will contribute to strengthening relations with Cuba and increase the presence of the participating companies in the country.
The Prime Minister referred to the deepening of the international economic crisis after the pandemic and explained that the Caribbean island is no stranger to this adverse context, a situation made more complex by the tightening of the blockade and the inclusion in the list of State sponsors of terrorism.
Marrero Cruz recalled that foreign investors with businesses in Cuba, businessmen, and banks working with the island have been financially persecuted, which has resulted in delays in payments to suppliers.
In spite of this, we reiterate our government's decision to honor each one of its obligations and we are grateful for the trust, patience, and understanding of those who stand by our side in these difficult conditions, he affirmed.
He also referred to the facilities in the country for foreign investment and stressed that despite the deep economic crisis, the Cuban market has great attractions due to its potential.
Marrero Cruz expressed his gratitude for the presence in FIHAV of the Caribbean nation's main commercial partners, such as Spain, Italy, Canada, France, China, Mexico, Brazil, Russia, and Venezuela. (ACN)