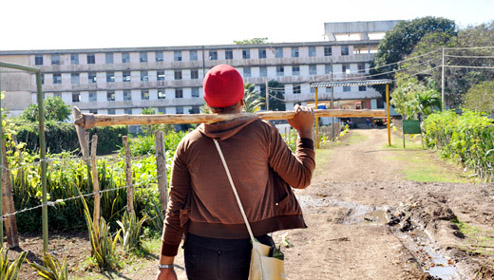 A veterinary clinic and an agricultural module are among the actions of the Program for the Strengthening of Technical and Professional Education in Cuba (PROFET), implemented at the Manifiesto de Montecristi Agricultural Polytechnic Institute (IPA, in Spanish) in the province of Las Tunas.
Las Tunas, Cuba.- The project, with the incident in the southern municipality of Jobabo, develops its second stage with a decisive role in the conditioning of premises to materialize the teachings and good practices that students and teachers have accumulated since the signing of the agreement, in 2019.
The institution stands out within the Technical Professional Education (TPE) in Cuba for holding the Third Crown of Excellence in the National Movement of Urban, Suburban, and Family Agriculture, and is the only IPA in the country that owns a polygon of land, as well as a teaching-productive farm that allows it to be self-sufficient and contribute to other schools.
In this sense, PROFET as an economic-productive project has given sustainability to the objectives of this center, since it enables a greater link with the practice and ensures employment in the fields of agriculture, construction, and services, prioritizing local development, attention to vulnerable groups, and gender equality.
PROFET took an important step in vocational training, professional orientation, and training of technical personnel, while improving the quality of life of the school and its workers, according to the highest authorities of the education sector in this eastern Cuban province.
The second stage of the project includes the installation of laboratories for agricultural, soil, veterinary, insemination, and blacksmithing specialties, rural industry, and equipment for glassware and reagents, together with the training of teachers and the municipal government to create cooperative productions that contribute to local development and the provision of services.
The agreement was signed between the Ministries of Education and Foreign Trade, the Swiss Agency for Development and Cooperation, and the United Nations Development Program, and includes the "Manifiesto de Montecristi" along with 28 other centers of this teaching in 24 municipalities in the country.
The TPE in Las Tunas has 17 educational centers, 11 of them pure, three mixed, and an equal number of trade schools, a network that stands out for its results in Technical Professional Education in specialties such as Veterinary Zootechnics, Agronomy, Textile Clothing, Accounting, Food Processing, Civil Construction, Electrical Installations, and Carpentry, among others.