9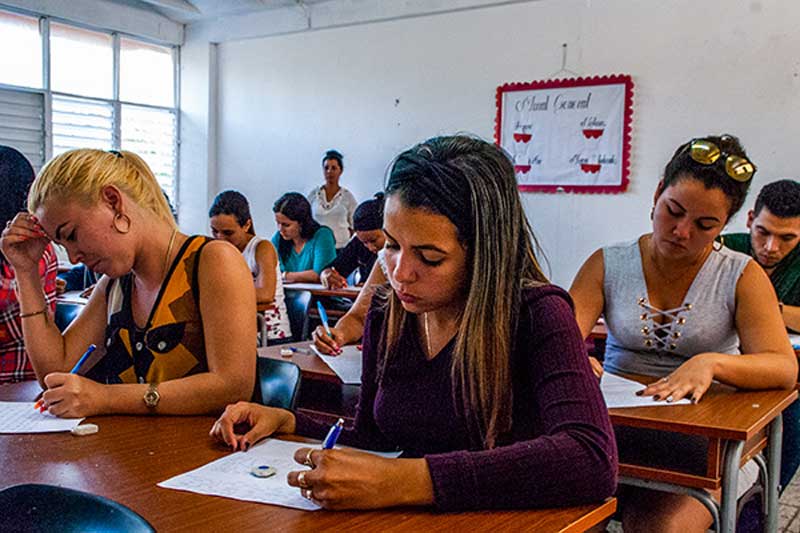 The quality and organization of the process to enter Higher Education is assured in the province, said Aurora Ramos de las Heras, rector of the University of Las Tunas, in a working meeting. The exams will be held on October 2, 6, and 9, as Minister José Ramón Saborido Loidi recently announced.
Las Tunas, Cuba.- When the suspension of the teaching activities was decreed last March 23rd, the House of High Studies of Las Tunas had already completed the granting of the courses by meetings and distance learning. "We applied the instruments of selection in the specialties in which it was necessary, we published the results and it was only pending to the act of claim; but the aspirants who have a place granted know about it", explained the rector.
Ramos de las Heras stated that "despite the isolation measures indicated in March, some of the staff members involved in this process have continued to work in our University in a reduced composition. This places us in favorable conditions to continue with the schedule.
"The necessary coordination was made with the agencies to continue the work and we maintain systematic communication with the authorities of the Provincial Directorate of Education. The application sites have been defined and one has been increased in the head municipality, which will avoid crowding in the organization of the sites. All of them have premises that meet favorable conditions and the measures of check-ups by the health personnel will be reinforced, before the beginning of each test."
The directive confirmed that they have the proposals of the teachers who will participate in the qualification. In the selection, it was taken into consideration that they should be from the provincial capital, in order to avoid transfer from the municipalities. In addition, none of them is over 60 years old and the buildings destined for the review will be increased in order to ensure a greater distance between the members of the board of examiners.
The Automated System (SIGIES in Spanish) is ready with practically all the applications of the applicants loaded and only the validation of the data remains to corroborate the quality of the deployment. The Master of Science stated that the work team is clear about the guidelines and has the willingness and commitment to ensure that the entry is made in compliance with the precepts of quality and transparency that characterize it.
ENTRANCE EXAMS SCHEDULE
Convocations
Maths
Spanish
History
Ordinary

October 2




(Friday)

October 6




(Tuesday)

October 9




(Friday)

Special
(exceptional)

November 2




(Monday)

November 4




(Wednesday)

November 6




(Friday)