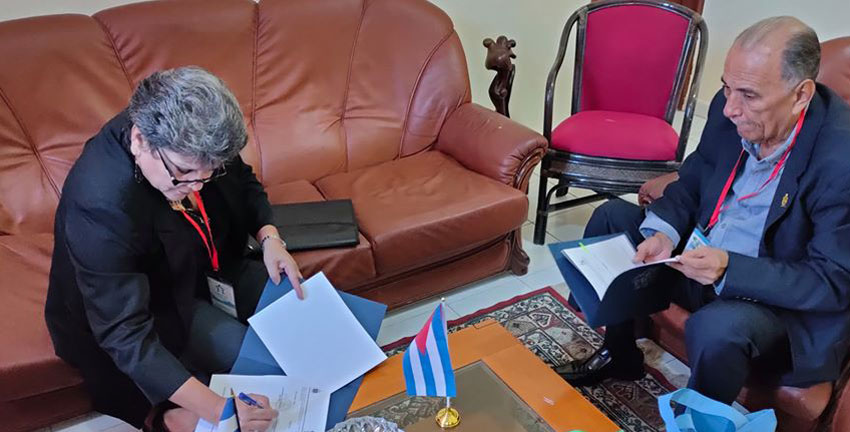 A technical cooperation agreement was signed on earlier this week between the rector of the University of Las Tunas, Aurora Ramos de las Heras, and the representative of the National Autonomous University of León, Nicaragua, during the sessions of the 12th International Congress Universidad 2020, which wraps up today in Havana.
Las Tunas.- The agreement responds to a coherent relationship strategy that allows scientific updating, cooperation and mobility with universities and institutions in different regions of the world. The Las Tunas' house of high studies is currently taking part in 37 international agreements and, from the business group, new niches are managed for the development of research projects and stays, which contribute to doctoral training and publication in high-impact journals.
From the growth of the scientific and academic potential, the participation of the institution's professionals in academic networks is increased. Currently, they participate in 21 international, some of them with high impact, as well as in 16 national knowledge networks, among which the GUCID Network and the Energy and Energy Efficiency Network of the Ministry of Higher Education stand out.
The delegation from Las Tunas has accomplished an extensive agenda in "Universidad 2020" by participating in eight events of the 23 held in the framework of the event. In this case, those related to professional training, sustainable development, physical activity and sport and advances in gender equality.
It also presents a stand where evidence of the institution's contribution to the development of the province is exposed. The event has also been a suitable space to promote the celebration of the 25th anniversary of higher education in Las Tunas and, according to the criteria of its delegates, has allowed the exchange and transmission of practical experiences.