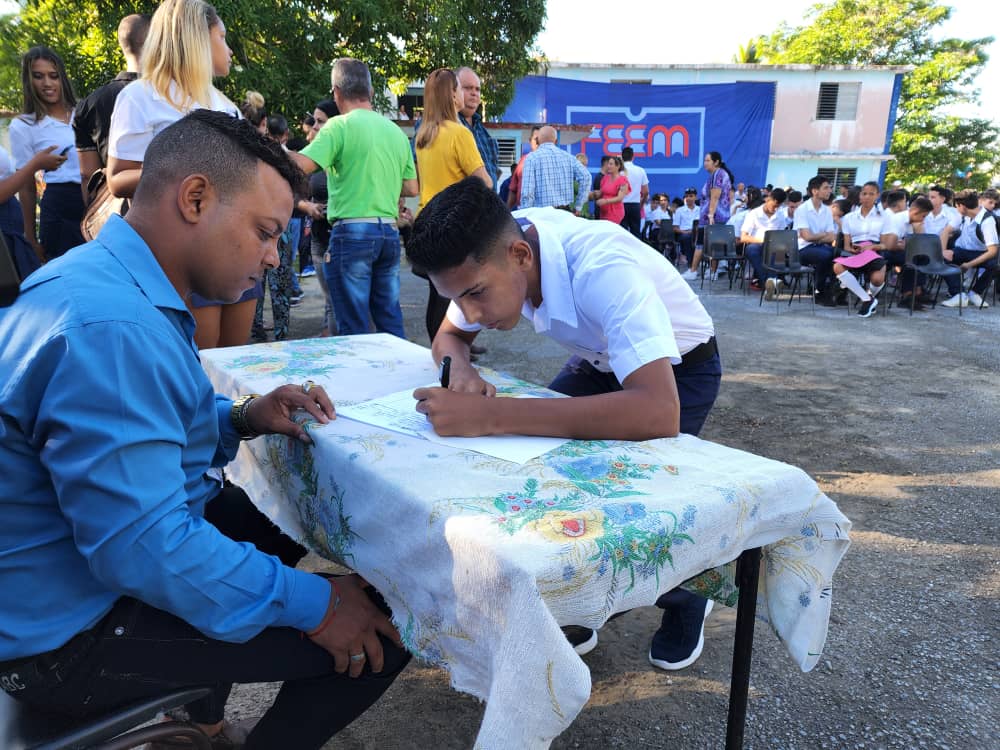 "More than four thousand students joined the Federation of Middle School Students (FEEM), committed to starting this new stage. We intend to continue working together with agencies and other organizations so that they are motivated."
These were the words of Cristian Acevedo Serrano, president of the FEEM in this eastern Cuban province, who also urged the new members to continue with enthusiasm, to give their best to continue being the present, future, and continuity of the Cuban Revolution.
Nathaly de la Caridad Reyes Silva was in charge of reading the Oath, in which the commitment of each scholar to comply with the study and other tasks aimed at their comprehensive training was made clear.
"Let us be worthy members of the FEEM. Let us be the first in the study, work, sacrifice, example, and the fulfillment of each task entrusted to us by the organization."
The young people signed the book La FEEM soy yo (I am the FEEM), which officially accredits them as members of the organization that emerged on December 6, 1970, to revitalize the student movement.
The provincial ceremony of admission was held at the Francisco Muñoz Rubalcava Urban Pre-university Institute, in Las Tunas city. The young people were accompanied by Nílser Piñeda Cruz, Director of Education, officials from the Cuban Communist Party (PCC), and the Young Communist League (UJC).