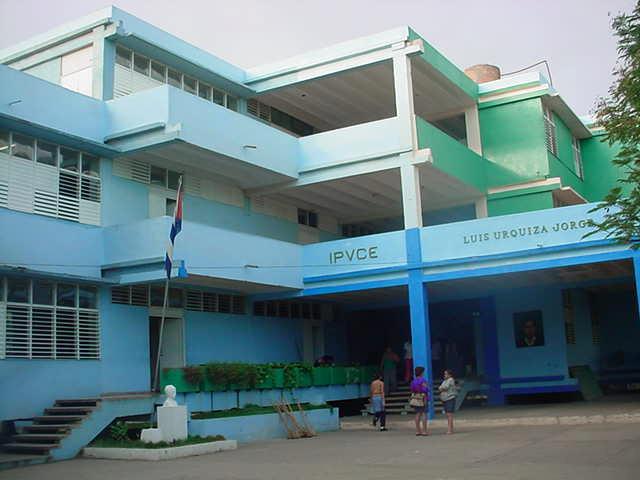 The Luis Urquiza Jorge Vocational Pre-university Institute of Exact Sciences (IPVCE), in Las Tunas, is currently giving the final touches to resume the 2019-2020 school year from Tuesday, September 1.
Las Tunas, Cuba.- The meetings with the parents of the students, an enrollment over 900, are part of the actions planned to give continuity to the educational teaching process, interrupted last March. In order to avoid crowds, these meetings are held every four groups.
In addition to displaying a freshly painted and embellished facility, the school has been creating conditions for the atypical situation in the province according to phase three of the post-COVID-19 recovery stage. For example, disinfection points for hands and shoes were established at the entrance of the center and each of its premises; the groups have been divided to maintain the adequate space between students and the use of the facemask will be mandatory all the time, both teachers and students, to whom this accessory was included as part of the current school regulations.
The director of the educational center, Maigualida Ortega Espinosa, emphasized that students with catarrhal symptoms will not be received, neither personnel unrelated to the institution will be allowed the entrance. Nor will they develop massive acts.
During the months of September and October, the tenth grade students will attend classes on Monday, Wednesday and Friday in the afternoon, from 12:35 pm to 5:05 pm. Those in eleventh grade will go Tuesday and Thursday afternoons, and Saturday mornings. During three weeks they will systematize the contents according to the integrating seminars that they will have to expose in the fourth week. The month of October will be for the application of revaluation and extraordinary exams.
From Monday to Friday in the morning, the classrooms will be used by the twelfth grade learners, who prepare for the University entrance exams.
If the epidemiological situation allows it, the 2020-2021 academic year will begin on November 2.