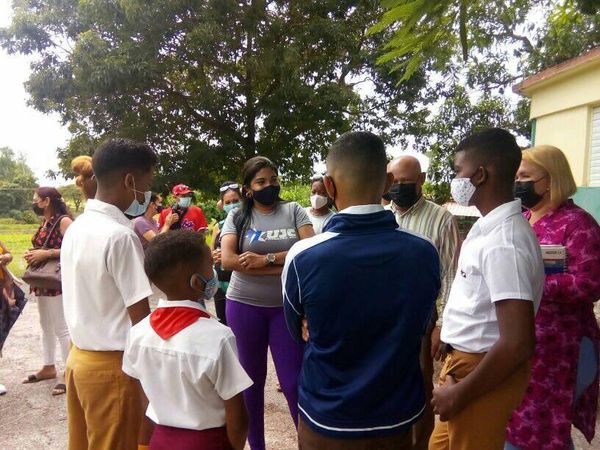 Las Tunas - Young people from Las Tunas have been defining this date as a "productive, attractive and joyful" working day on their social networks.
Today, as part of a national tour that has already taken them to nine other Cuban provinces, Rosa María Ramírez Montero and Yosmel Duany Álvarez, members of the National Bureau of the Young Communist League (UJC, by its acronym in Spanish) are in Las Tunas.
And they do not come alone, together with them Hamlet Alvarez Aguiar and Karla Santana Rodriguez, national presidents of the Federation of High School Students (FEEM, by its acronym in Spanish) and the Federation of University Students (FEU, by its acronym in Spanish), respectively, are visiting the territory.
The main objective of this tour is to check the preparations for the school year and to exchange, in educational institutions, with students and teachers from different levels of education.
The program of activities has allowed them to visit children's circles, the Children's Home for children from zero to 6 years of age and semi-boarding schools. In the midst of the meetings, Ramirez Montero, national president of the José Martí Pioneers Organization (OPJM, by its acronym in Spanish), emphasized the importance, today more than ever, of core issues such as vocational training.
She was able to know details of this during her visit to the provincial palace of the José Martí Pioneers. A place where new work agreements were signed today between agencies, in addition to the 13 already materialized; and where the areas occupied by two highly prestigious companies here, Acinox and Metunas, were reopened.
Thanks to this, the teenagers from Las Tunas will be able, once again, from the institution, to be part of the Metallurgy and Welding clubs; besides marking the event the opening of new horizons.
A tight schedule, marked by many smiles and the carefree criteria of the new generations define this day and confirm the certainty that in Las Tunas they work hard to make the school year successful, in tune with the integral formation that these times need.