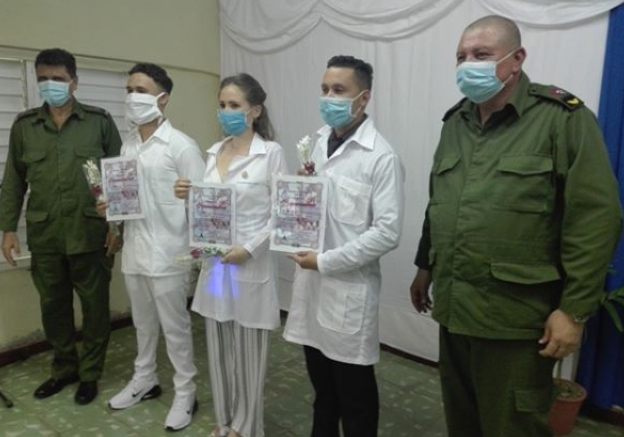 A total of 57 students of Medical Sciences from the municipality of Jesús Menéndez received the title of graduates in different specialties, the result of their effort to become professionals in the beautiful and altruistic work of healing and saving lives.
"Jesús Menéndez", Las Tunas.- In the midst of the complex situation derived from the health crisis caused by the COVID-19, the new doctors in this eastern-most municipality will continue one of the main conquests of the Revolution in the place that corresponds, inside or outside the country.
With the presence of the highest authorities of the Cuban Communist Party and the Government of the province and the municipality; as well as the University of Medical Sciences of Las Tunas, the Young Communists League and the Cuban Workers Federation in the municipality, the diplomas to seven students with a Gold Title and three outstanding students were delivered.
During the ceremony the commitment and oath of the graduates as guarantors of the progressive improvement of the medical services to which they join were heard.
Members of the José Martí Brigade gave their art to recent graduates and their families, companions on this day of joys and commitments.